Independent testing of the ReeFi Uno LED by Dana Riddle is underway:
https://www.reef2reef.com/threads/reefi-led-uno-testing-soon.766239/#post-8074763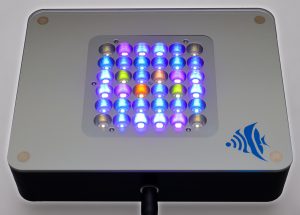 This compact LED fixture packed a whopping 72 LED diodes and 180W of max power. Using ReeFlectors to create even color blend of soft cast lighting without blinding side glare.
Other features:
9 unique color LED spectrum with 9 individual channel for the most control.
Built-in WiFi and user configurable program schedule.
Continuous firmware updates to bring new features.
ReeFi Uno is a game changer to continue ReeFi's mission statement to create affordable premium LED lighting to the reefing community. ReeFi Uno is designed by reefer with microprocessor designer background and is made for reefers.
Continuing with the innovations from the ReeFi Duo Extreme, ReeFi Uno breaks the industry standard by bring premium LED reef lighting to unheard of under $2 per watt with most competition are over $4 per watt! All this and ReeFi Uno is backed with 3 years warranty!

Pre-order now for additional 20% saving and free shipping in the US for limited time and quantity only:
ReeFi Uno Pre-order Special