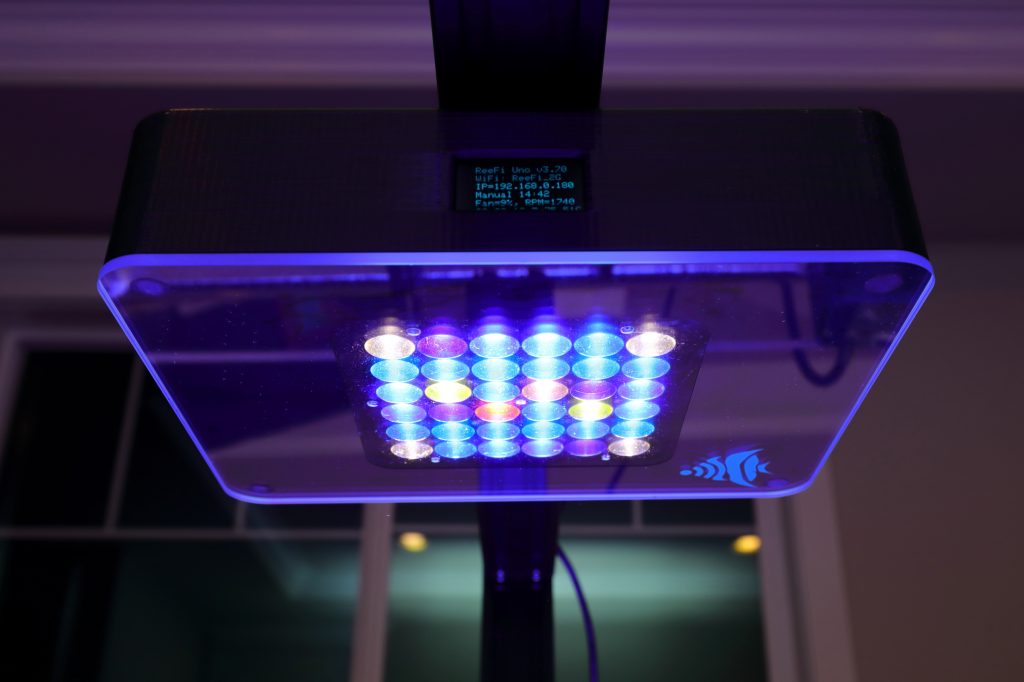 Following the success of the ReeFi® Duo Extreme, ReeFi® Uno continues ReeFi's mission to make premium LED fixtures that will be affordable. One of the hard lesson learned from the Extreme is the importance of design for manufacturing. It's easy to make a few prototype but scaling up for mass production creates more complications. Using the latest PCB fabrication technology, ReeFi® Uno incorporates 2 layers copper substrate PCB with direct thermal path technology which allows the LED diodes, IC drivers, dual-core microcontroller and WiFi to all be on the same PCB. This eliminates many steps in the manufacturing process and eliminates many assembly concerns while still maintaining the best thermal pathway to export heat. Other innovations includes gas exchange vapor chambers to greatly improve transfer heat from the LEDs to the heatsink fins. This enables the use of higher heat density LEDs such as the 4in1 larger LED diodes, thus doubling the number of LED diodes in the same 6×6 LED puck arrays. ReeFi® Uno also incorporates ReeFlectors®, which have become one of the favorite innovations to prevent blinding side glares.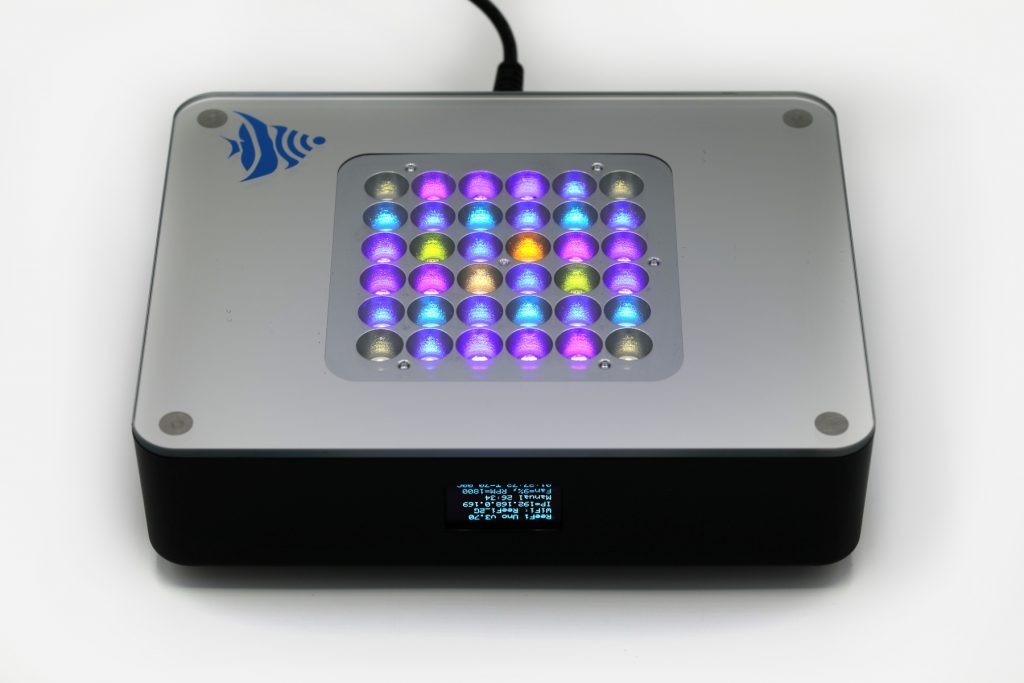 Features and Specs at a Glance
Complete blue to UV spectrum coverage for best coral coloration and growth.
Broad wide spectrum PC Amber, Lime, with Cool and Warm White LEDs bring out the vivid colors of fishes and corals.
ReeFlectors® – Anti-glare, more even light distribution, color blend, and natural shimmer in compact form factor with individual ReeFlector™ for each LED diode.
9 Color Spectrums with 9 individual channels and highest precision dimming of 0.097% increments.
Auto time sync and Auto moon phase lighting capable on any combinations of channels. Design your own moon color.
Easy to setup and program with built-in WiFi web server, fully customizable program schedule settings that can be saved to file for backup and sharing.
Advance cooling to keep LED at optimal performance with temperature sensor and PID fan control.
72 LED diodes in 6×6 array, using 12 larger 4in1 LEDs.
180W max power, 83.3% of the power level of ReeFi® Duo Extreme.
Compare to the Competition
Most affordable premium Reef LED fixture, under $2 per watt.
Most LED dimming steps at 0.097% increments.
Most LED color diodes with individual color channel of control.
Incorporates high ratio of Blue to UV spectrum to target chlorophyll A and B in corals.

Premium LED Selection
Choosing to only use the highest LED performance binned from CREE's 2nd generation XP-E2 and LUMILED's Luxeon Rebel, ReeFi® LED Duo Series yield up to 50% more intensity than the lower binned of the same color. For example, choosing Royal Blue LED from grouping 38 produces 650mW at 350mA vs grouping 30 which produces only 450mW at 350mA. This is on top of the 20% intensity improvement from XP-E to XP-E2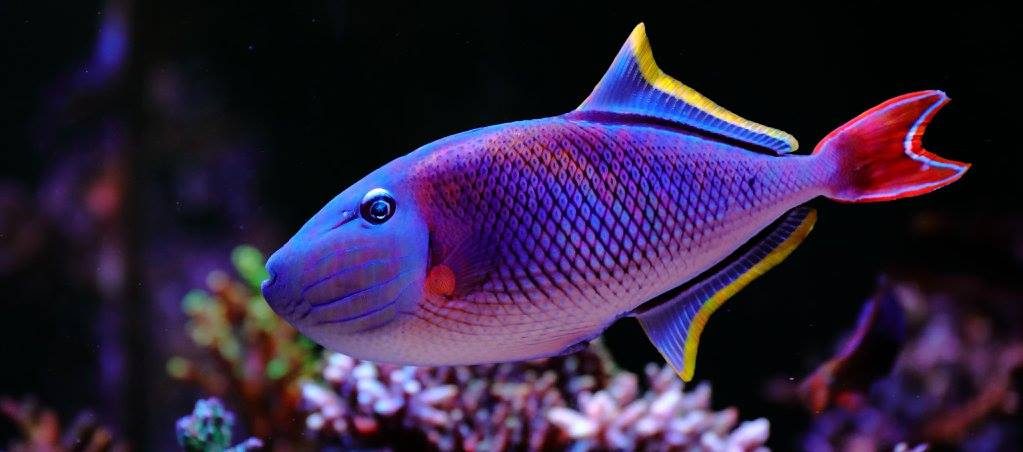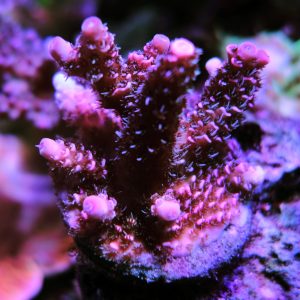 Full Blue to UV spectrum for coral growth, coloration, and florescent excitement with peaks at 470nm (Blue), 450nm (Royal Blue), 435nm (Violet), 420nm (Deep Violet/UV), and 400nm (UV).


Increased usable PUR by using only broad spectrum Lime, PC Amber, Warm White, and Cool White with the above full Blue to UV spectrum.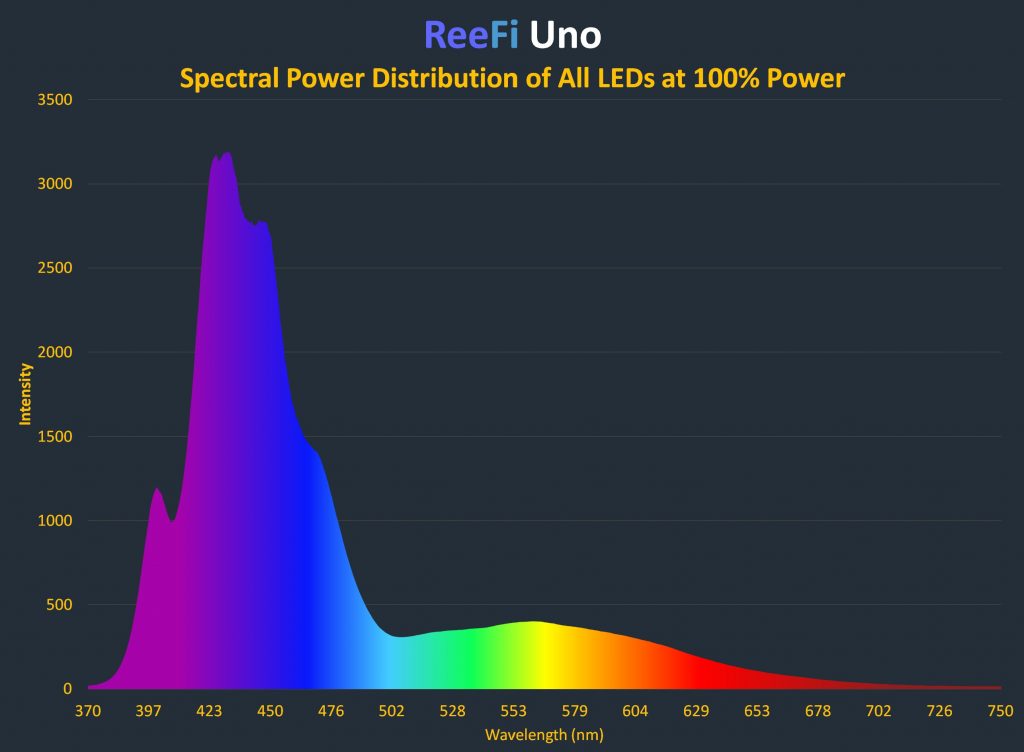 PAR and Light Spread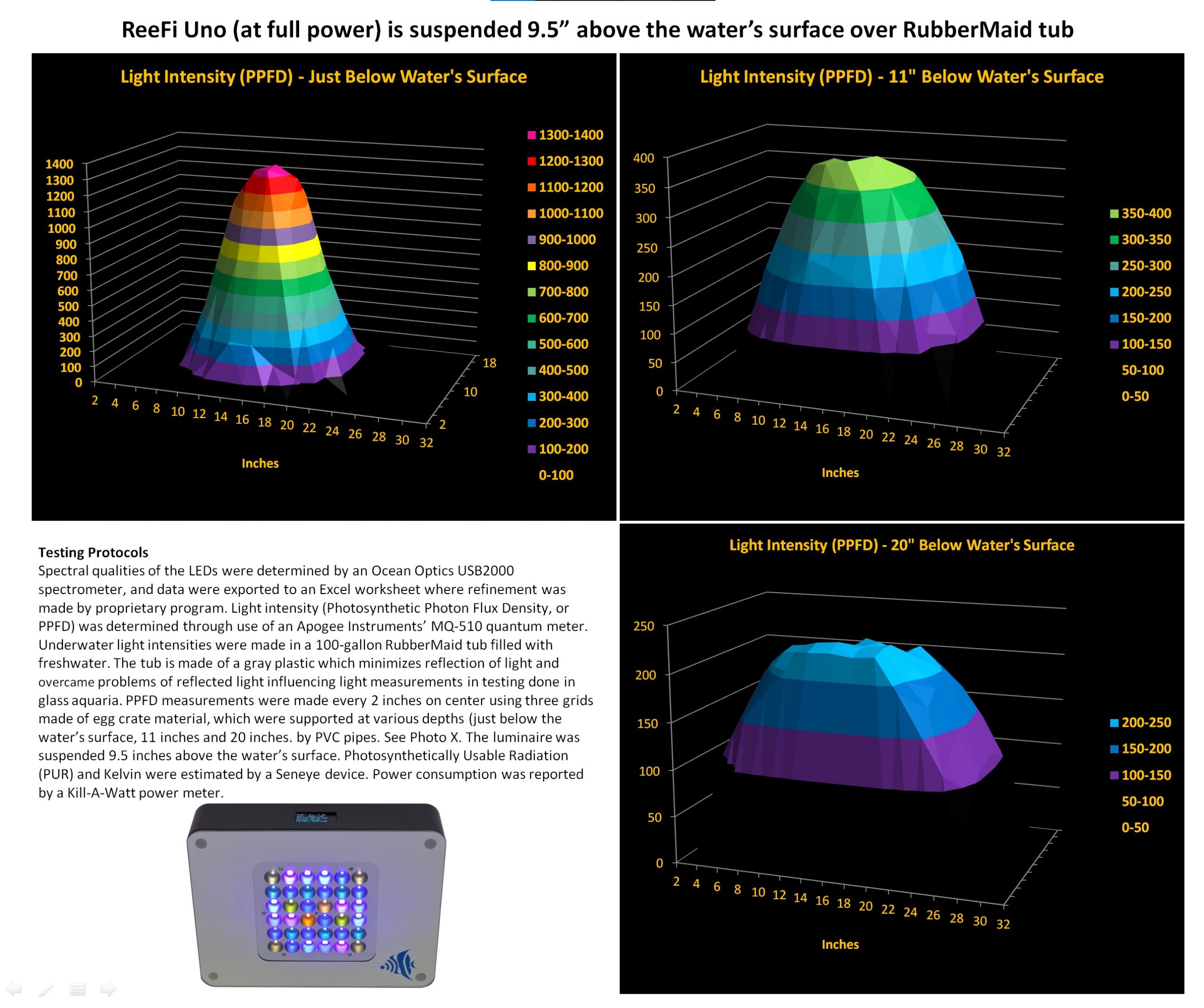 PAR is inverse proportional to distance squared (higher the light equals less PAR), and light spread is directly proportional to distance (higher the light equals greater spread).
Measured PAR on 50gal cube tank, 24″x24″x20″H. ReeFi Uno mounted at 11.5″ above the water and using Apogee MP-510 to measure PAR at bottom of the tank: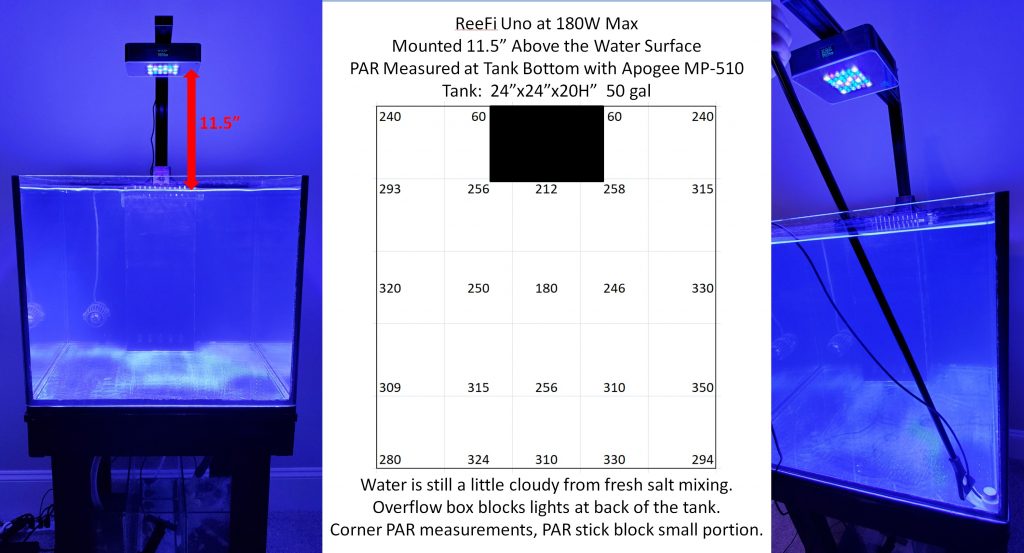 ReeFi® Uno at 11″ above the water surface have a spread of 24″x24″ at the water surface.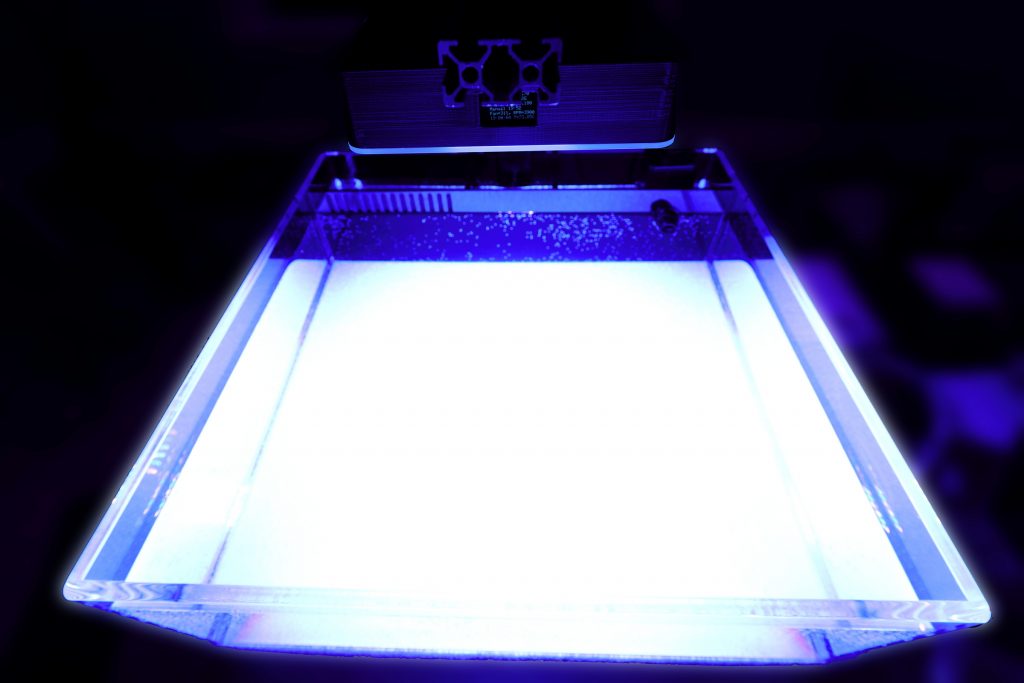 Controls and Automation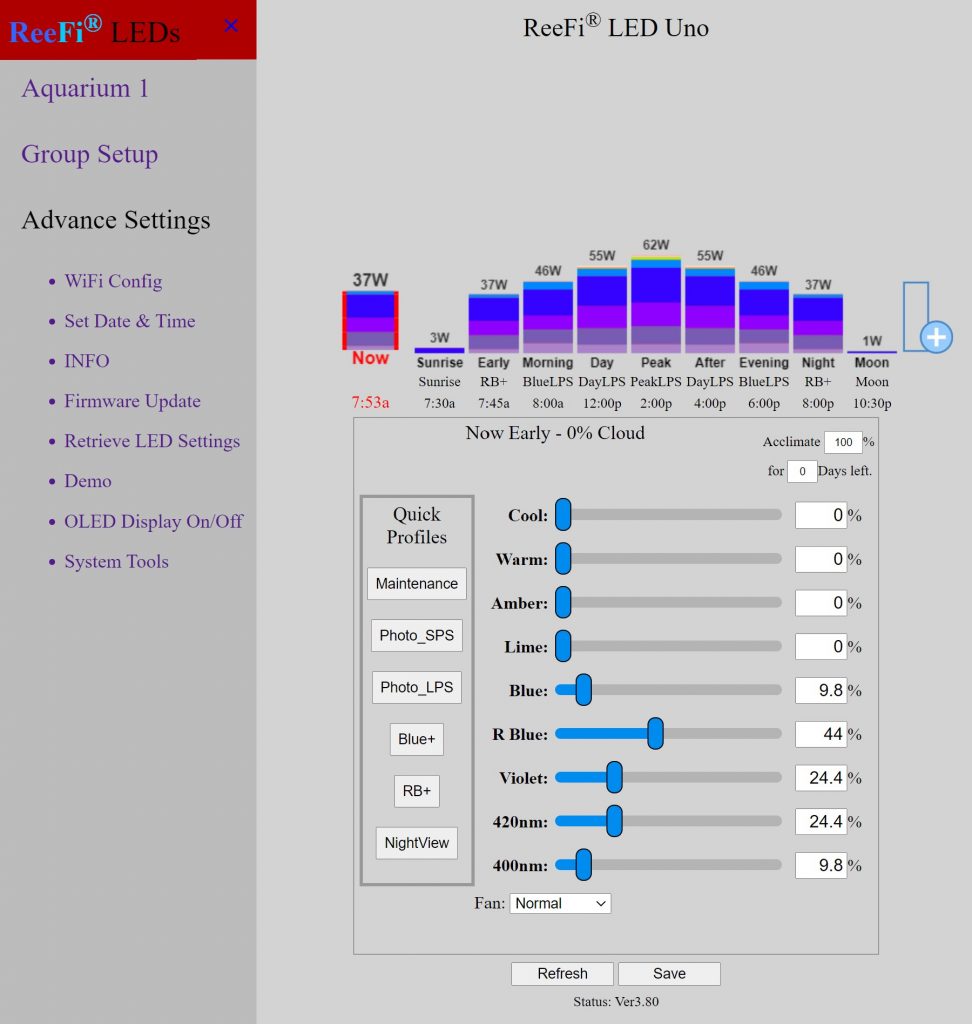 Built-in WiFi to allow control with any web browsing capable devices. Multiple units can be grouped together and multiple groups can be created as needed for ease of programming. No additional add-ons needed.
Dual core microprocessors to maintain automation. Once setup to home/office WiFi network, time and date are automatically synced from the Internet and the LEDs will ramp according to your scheduled settings.
Smart LED ramping maintains spectrum ratio in your preset modes as it ramps the LEDs up and down between modes.
9 channels to control each of the 9 LED spectrum individually.
Fine Tuning with LED increments as low as 0.097%. This means any combinations of channels can be used as moon lighting.
Auto moon phase calculation and time sync. Set full moon intensity then ReeFi® LED will set moon mode according to current moon phase.
Fast responses with Asynchronous Web Server.
ReeFlectors® vs Optical Lenses
ReeFlectors® – First anti-glare, more even light distribution , color blend, and natural shimmer in compact form factor with individual ReeFlector™ for each LED diode.
Custom-made compact individual parabola mirror reflectors to prevents wasted light bleed to living/family room. No more blinding aquarium light in your eyes while you enjoy your movie nights!
Powerful enough that no individual optical lenses are needed to penetrate water depth over 36″. Creates natural light shimmer effects with uniformly blended color.
Ultra clear (no iron) single pane tempered glass bottom with mirror finish gives a clean profile and protects the unit from water splashes.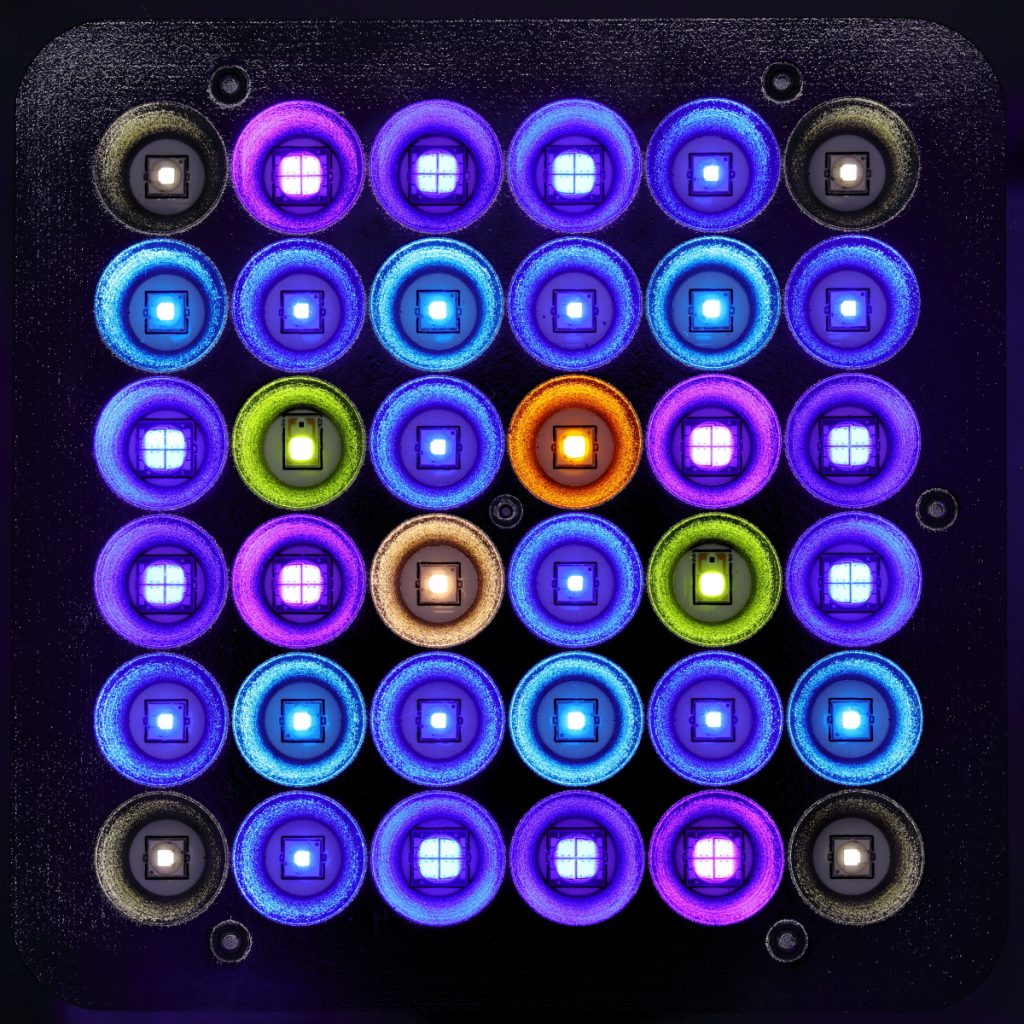 Power and Thermal Control
180 Watts of total maximum LED power.
Using the latest 2 layer copper core PCB technology with Direct Thermal Paths, which eliminates the dielectric layer between the LEDs and the PCB's base metal, so that the LEDs are directly in contact with PCB's base metal. This allows heat transfer rate to the heatsink of over 385 W/m*K vs the traditional 1-3 W/m*K with laminated dielectric layer in between.
Custom designed micro zipper fins heatsink to maximize surface area to remove heat efficiently.
4 phase exchange copper vapor chambers to rapidly transfer heat from the LEDs to the micro zipper heatsink fins.
Blower fan is needed for both large air flow and high air pressure to ensure proper airflow within the micro zipper fin channels. Fan is controlled with temperature sensor and PID (Proportional, Integral and Derivative) feedbacks to maintain whisper quiet fan noise.
Corrosion-resistant power supply unit with 90+% power efficiency and >0.9 PFC to eliminate grid level energy waste. Green is good!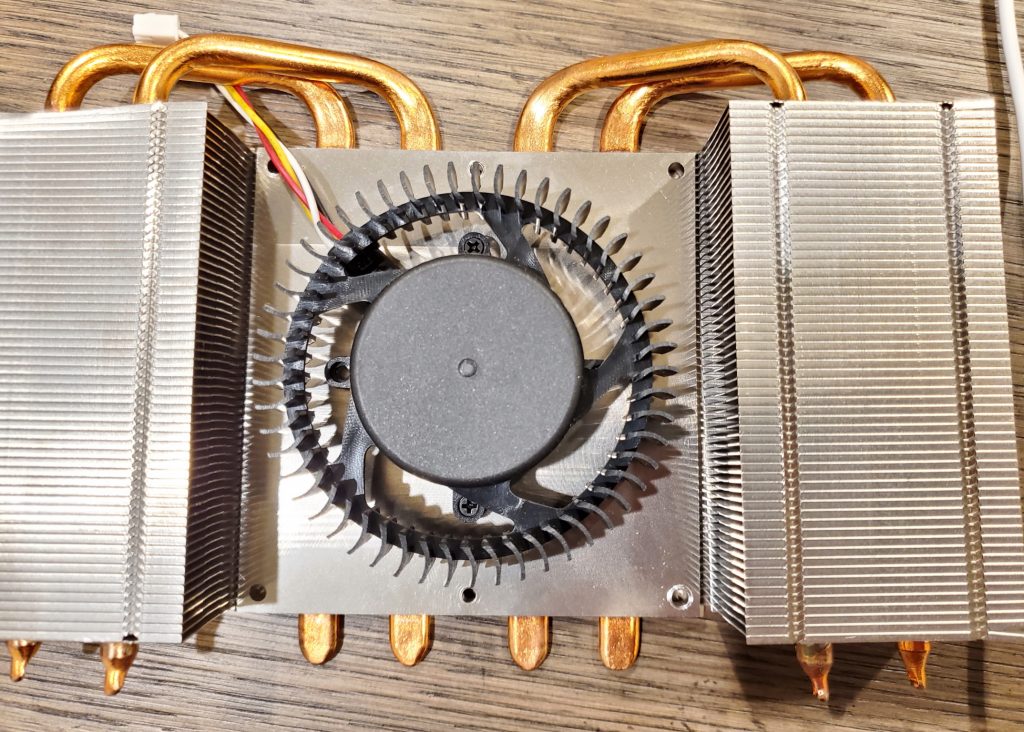 Design
Designed to be hanged 10″ to 18″ above the waterline which clears up space to work above the tank.
OLED display screen to provide status info and network connectivity info.
User web interface and firmware can be updated wirelessly from web menu selection.
Size: 7.24″L x 5.64″W x 1.73″H
Weight: 2.2 LB for ReeFi® Uno and 5 LB for ReeFi Waterproof Power Supply.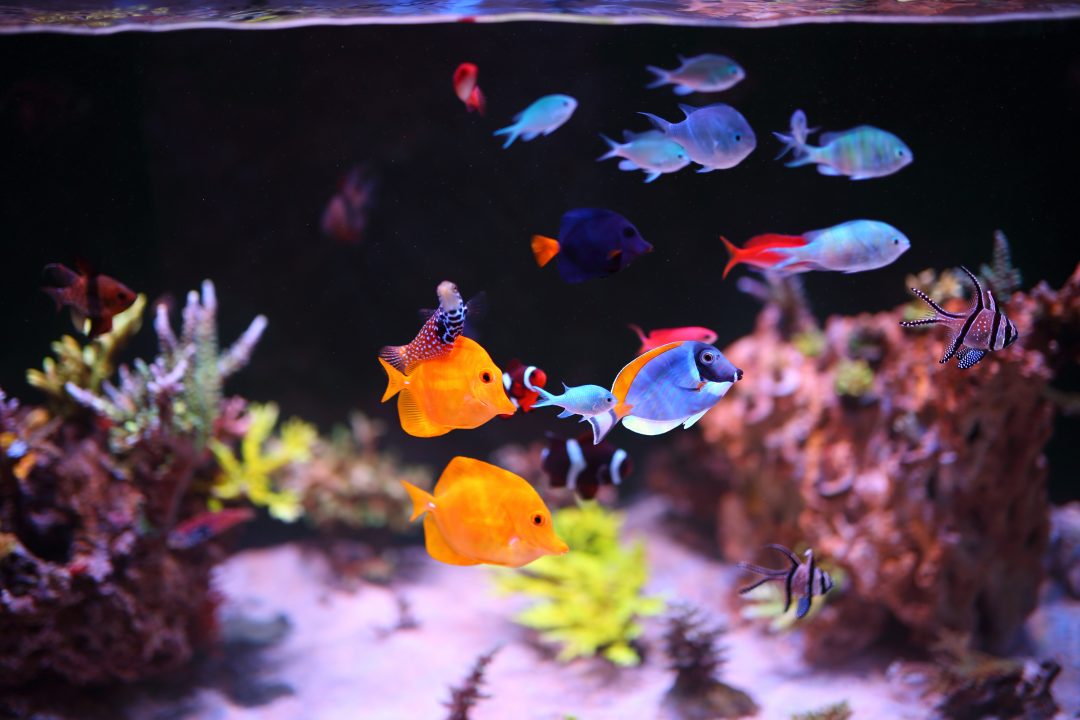 Maintenance and Warranty
Use compress air cans to blow out dust buildup every 12-18 months or when fan runs excessive high speed or when unit warns of over heating.
Warning: Fan exhaust must be allow to be blown away from the unit or to ensure cool ambient air is being drawn into the fan intake. Do not place inside enclosed canopy.
Surpassing industry standards with 3 Years Warranty – You must provide and show purchase date and pay the cost of shipping to ReeFi® warranty service. Once fixed or replaced, ReeFi® will pay the cost of shipping back to you. Non-USA customers must pay shipping costs both ways.
Warranty void if there is signs of any physical damages, liquid damages, and/or damages from excess moisture prior to when ReeFi® received the item for warranty service.
ReeFi Uno 2.0 Pro is here, Order Now