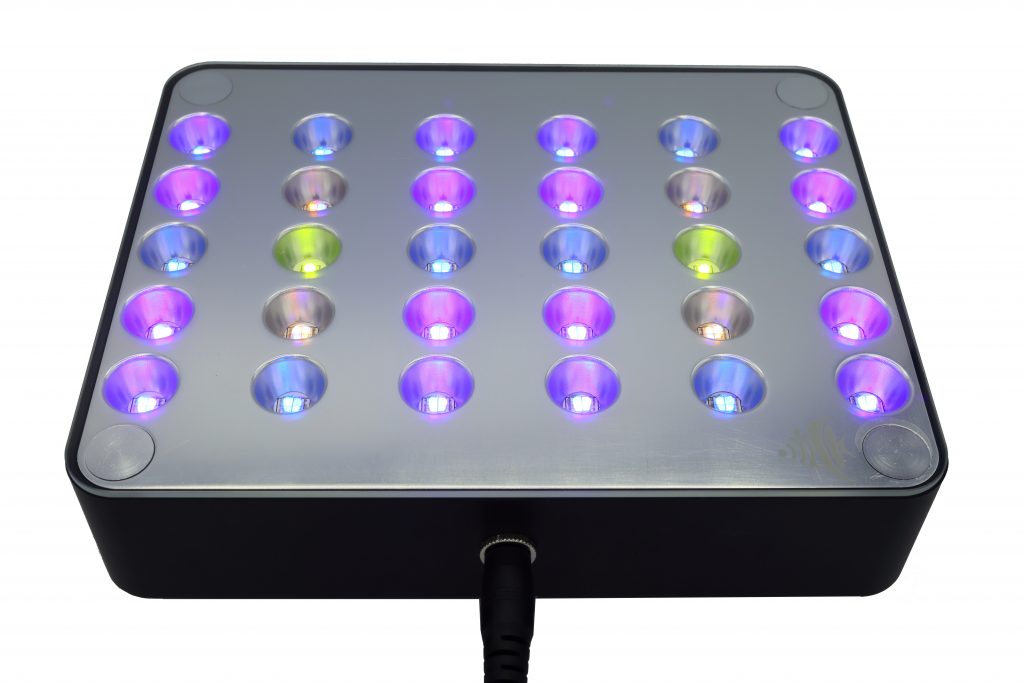 ReeFi® Uno 2.0 Pro improves on the original ReeFi® Uno with the following:
Significant more Blues and Royal Blues to better complement the strong of Violet, near UV, and UV.
Increased from 72 LEDs (180W) to 114 LEDs (260W).
Edge to edge LEDs, more than doubling the puck size, for improved spread and coverage.
New edge to edge ReeFlectors™ increasing each LED spread from 90degs to 110degs along with new 4in1 color LED blends to maintain superior color blending, even light spread, no disco lighting, and no side glares.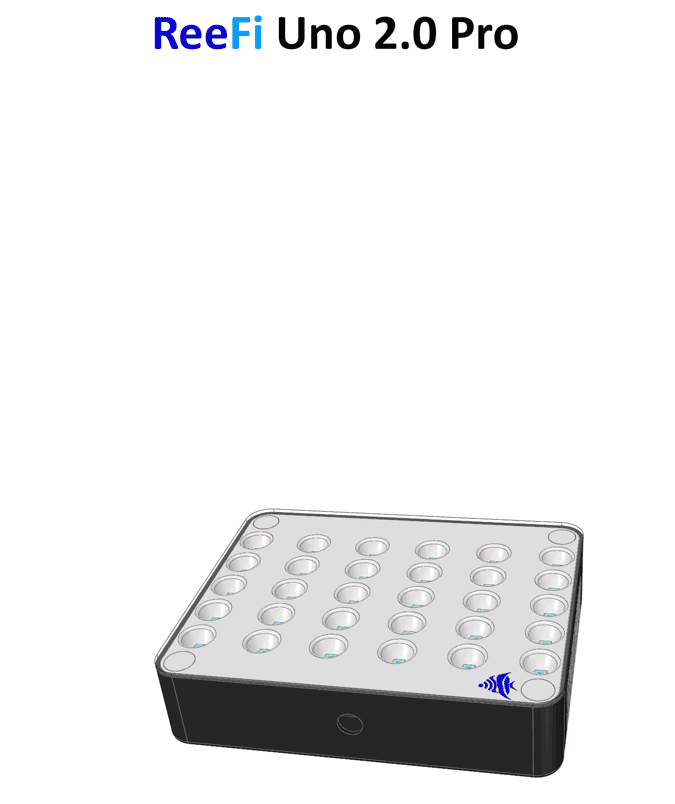 Features and Specs at a Glance
Complete blue to UV spectrum coverage for best coral coloration and growth.
Broad wide spectrum PC Amber, Lime, with Cool and Warm White LEDs bring out the vivid colors of fishes and corals.
Edge to Edge ReeFlectors® – Anti-glare, more even light distribution, color blend, and natural shimmer in compact form factor with individual ReeFlector™ for each LED diode.
9 Color Spectrums with 9 individual channels and highest precision dimming of 0.097% increments.
Auto time sync and Auto moon phase lighting capable on any combinations of channels. Design your own moon color.
Easy to setup and program with built-in WiFi web server, fully customizable program schedule settings that can be saved to file for backup and sharing.
Advance cooling to keep LED at optimal performance with temperature sensor and PID fan control.
114 LED diodes, using 28 larger 4in1 LEDs.
260W max power.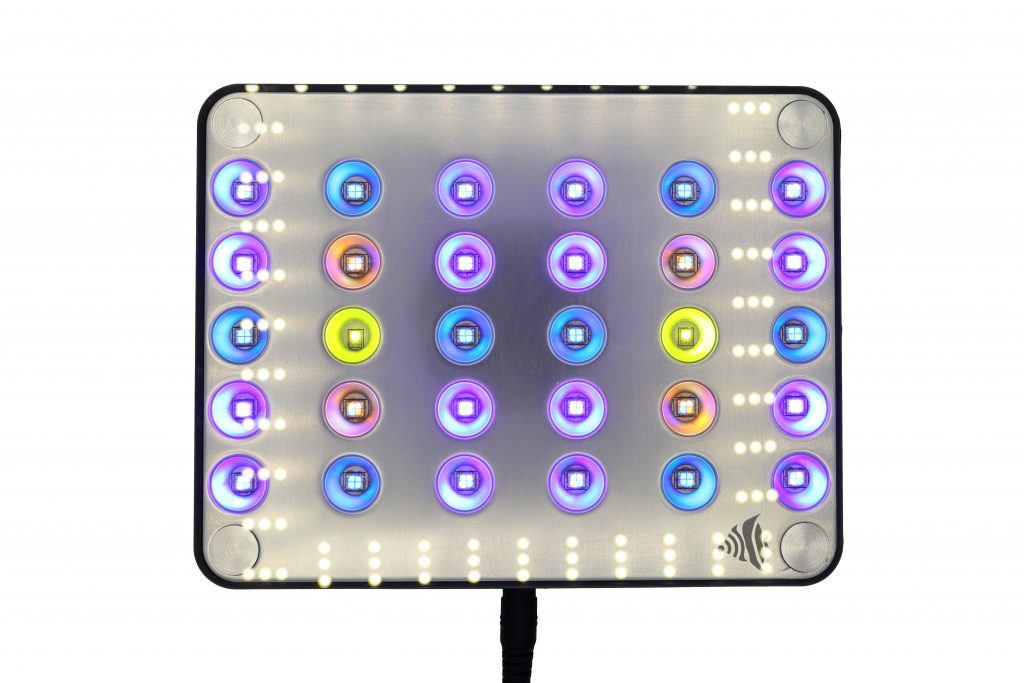 Compare to the Competition
Highest wattage premium Reef LED fixture with best value.
Most LED dimming steps at 0.097% increments.
Most LED color diodes with individual color channel of control.

Spectral Analysis
ReeFi Uno 2.0 Pro at 270W Full Power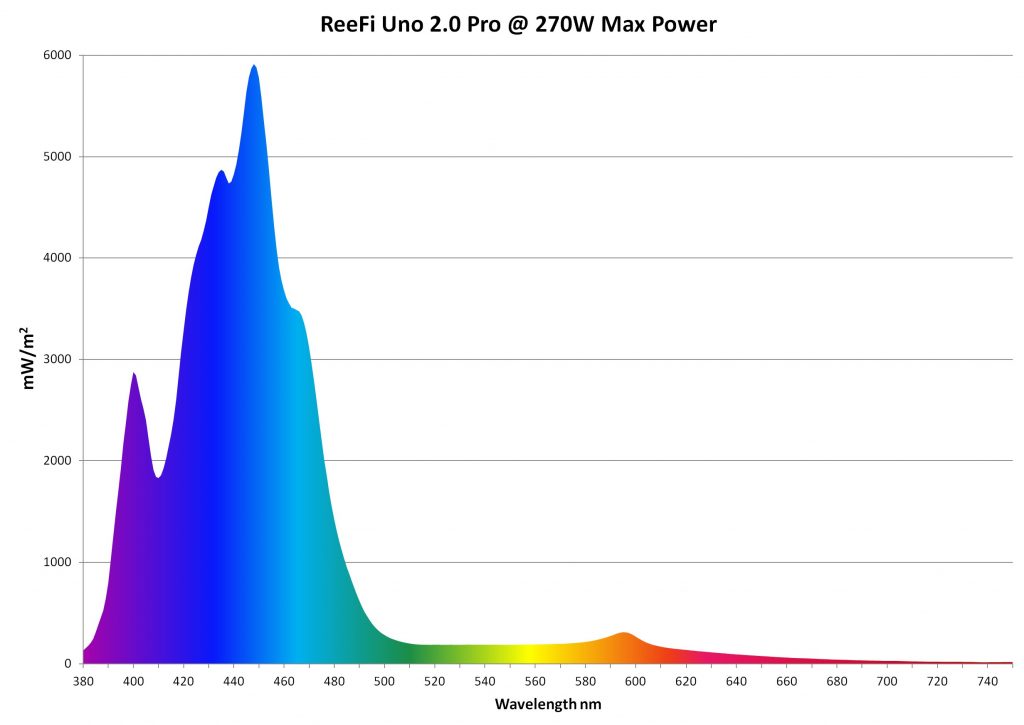 Controls and Automation
Built-in WiFi to allow control with any web browsing capable devices. Multiple units can be grouped together and multiple groups can be created as needed for ease of programming. No additional add-ons needed.
Dual core microprocessors to maintain automation. Once setup to home/office WiFi network, time and date are automatically synced from the Internet and the LEDs will ramp according to your scheduled settings.
Smart LED ramping maintains spectrum ratio in your preset modes as it ramps the LEDs up and down between modes.
9 channels to control each of the 9 LED spectrum individually.
Fine Tuning with LED increments as low as 0.097%. This means any combinations of channels can be used as moon lighting.
Auto moon phase calculation and time sync. Set full moon intensity then ReeFi® LED will set moon mode according to current moon phase.
Fast responses with Asynchronous Web Server.
Power and Thermal Control
260 Watts of total maximum LED power.
Using the latest 2 layer copper core PCB technology with Direct Thermal Paths, which eliminates the dielectric layer between the LEDs and the PCB's base metal, so that the LEDs are directly in contact with PCB's base metal. This allows heat transfer rate to the heatsink of over 385 W/m*K vs the traditional 1-3 W/m*K with laminated dielectric layer in between.
Custom designed micro zipper fins heatsink to maximize surface area to remove heat efficiently.
4 phase exchange copper vapor chambers to rapidly transfer heat from the LEDs to the micro zipper heatsink fins.
Blower fan is needed for both large air flow and high air pressure to ensure proper airflow within the micro zipper fin channels. Fan is controlled with temperature sensor and PID (Proportional, Integral and Derivative) feedbacks to maintain whisper quiet fan noise.
Corrosion-resistant power supply unit with 90+% power efficiency and >0.9 PFC to eliminate grid level energy waste. Green is good!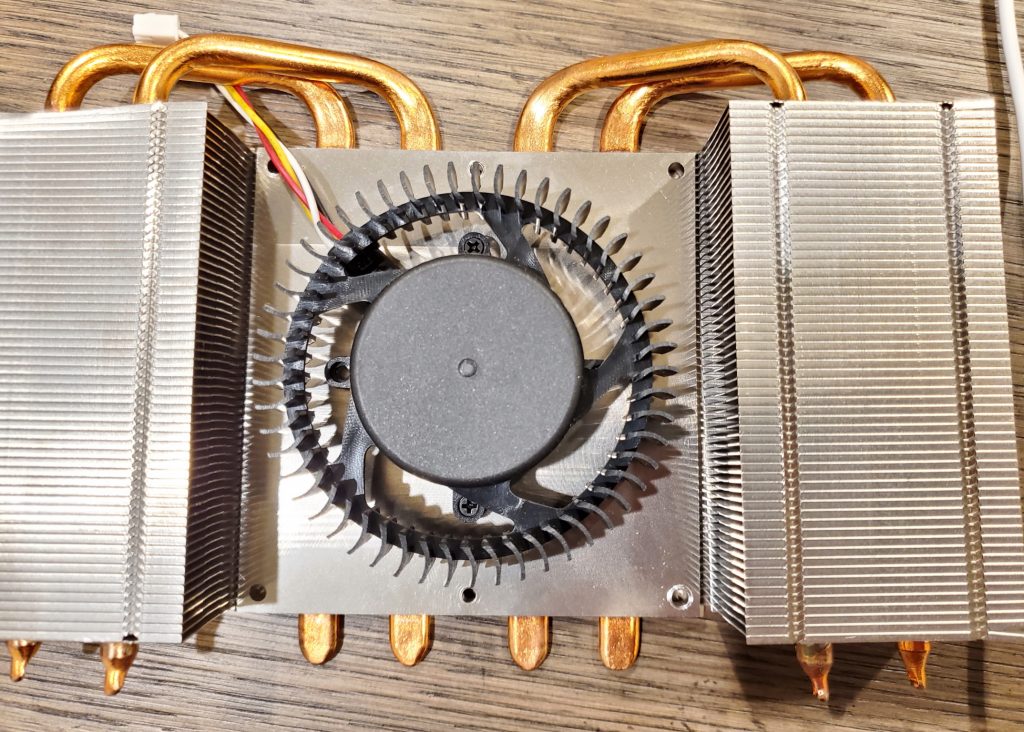 Design
Designed to be hanged 6″ to 18″ above the waterline.
OLED display screen to provide status info and network connectivity info.
User web interface and firmware can be updated wirelessly from web menu selection.
Size: 7.24″L x 5.64″W x 1.73″H
Weight: 2.2 LB for ReeFi® Uno and 5 LB for ReeFi Waterproof Power Supply.


Preordering Sales